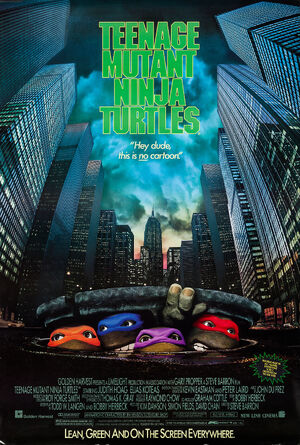 Apparantly, talk of a new live action Ninja Turtles movie has gone sour. Sort of. The other half of the creative team behind TMNT,
Peter Laird
,
told MTV
that they're at work on a "hybrid" TMNT movie. In other words, it will combine real actors and sets with CGI Turtles and most likely CGI villains. This should hopefully please fans of the
original live action series
, who hated the
CGI film
because it was too cartoony. There's also talk of bringing
Steve Barron
, director of the original, back for this installment. Everyone at
slashfilm
seems to hate this idea, but I don't know why. I frequently go back and watch this movie as it was the first movie I ever saw in a theater, and I like to see how my opinion of it changes as time goes on. I am always pleasently surprised and impressed with this movie, as it takes the premise seriously and sets it in a noir esque New York. This is the perfect world for the Turtles, and Barron really nailed a great color scheme with some awesome shadowy, grainy shots. I don't see why everyone thinks its a bad idea to get him back, when he was the one that made the Turtles into relatable, real characters.
What do you think? I'm all for more Ninja Turtles, and I really think Barron could succeed here.
(check out the slogan on the poster, hilarious!)